Year 2 
Year 2 Curriculum Letter - Term 4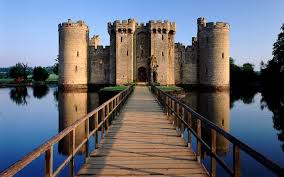 Dear Parents,
This term
The theme for this term is 'Towers, Tunnels and Turrets'. The curriculum has been designed so that, where appropriate, other activities are linked to this central theme. Our role play and outdoor areas will reflect the main theme for the term and are already showing crenellations and arrowloops!
Clubs
The children have shown great commitment to the clubs so far this year. Please ensure teachers are informed if your child will not be attending a club. Where clubs are on a rota basis, please check when your child starts and finishes their rotation.
English
Over the next term we will be developing our descriptive language around our central theme by writing narratives based on castle and traditional tales. We will also be learning about information texts within the context of castles.
Within these contexts the children will have the opportunity to:
Work in groups and listen to each other's views
Read and find information in non-fiction books
Create an information book using common features found in an information text
Read aloud with intonation and expression appropriate to the grammar and punctuation of a sentence
Secure their understanding and use of simple sentences in their own writing
Develop their descriptive language using adjectives and powerful verbs
The children will continue to take part in daily phonics sessions appropriate to their understanding. Reading is also taught during whole class reading sessions.
Mathematics
Please make use of our Mathletics resource from home to support your child's learning.
Thank you for supporting your child in the completion of their fortnightly maths homework. If you have any questions about the maths homework please contact your class teacher as early as possible.
Children can be helped at home with oral maths, addition and subtraction, and counting objects in 1s, 2s, 5s and 10s. Other skills to practise are telling the time, counting pocket money, looking for prices, weights and liquid measures at the supermarket and in the kitchen. We return regularly to these skills, but any additional practice is invaluable.
Science
During this topic children will explore pushes and pulls as forces. We will try to keep our towers standing! They will find about animals and where they live. We will discuss the importance of eating well and hygiene. Children will undertake a range of investigations as part of creative afternoon and our 'Choice and Challenge' activities.
PE
The children will be taking part in games and gymnastics sessions this term. The games will be based on 'Net and wall'. In gymnastics the children will be learning to combine and develop balances with and without apparatus and develop the range of balances using body shapes. They will also be given the chance to explore these balances on the large wall apparatus. Children also take part in creative afternoons and therefore need their P.E kit in school every day. This should consist of a t-shirt, a pair of shorts, tracksuit bottoms, top and trainers. Earrings cannot be worn during P.E and children with long hair will need to have it tied up.
Art, Design and Technology
This term the children will be exploring a range of art skills through our main topic. They will use a range of different materials and resources to create finished pieces. The children will design and make a print to hang on a castle wall after finding out about the location and features of castles.
Music
For our music this term the theme is 'Taking off'. This unit focuses on exploring instruments and pitch. Children will continue to learn songs during worship, in the classroom and during Friday afternoon creative activities
Computing
This term the children will be learning how to program a sprite based around a knight going on a quest. The children can support and develop their subject knowledge by accessing 'Purple Mash' at home or in school.
RE and PSHE
In RE the children will learn why Easter matters to Christians and visit the Easter experience at St. Mary's church. In PSHE they will discuss managing risk and understand how to deal with change.
Home Reading and Reading Diaries
We would like to take this opportunity to thank you for your support in completing the reading diary with your child. We can really see the results of this effort in your child's written work in school.
Attendance
If your child is physically sick please remember they should not return to school within 48 hours.
Holidays are best taken out of term time to ensure your child does not miss out on school life.
Home learning project
This term we would encourage you to support our castles topic by creating something at home. We would like to leave this as open as possible so children can be creative.
Some suggestions include:

Creating a 3D castle model
Writing your own quest story
Making a project poster based on castles
Creating your own castle themed costume
We will share to children's efforts with you all at the end of this term.
Parents' Evenings
We look forward to meeting with you individually in February.
Neil Owens (Head of KS1)
Eleanor Hunt Jane Morgan Rebecca Koller
Dates for your diary:
Warwick Castle visit – Violet

Tuesday 20 February

Warwick Castle visit – Indigo

Wednesday 21 February

Warwick Castle visit – Magenta

Thursday 22 February

Parents' Evenings

Wednesday 21 February /Thursday 22 February

Creative Afternoon/Forest School Group 3

Friday 23 February

Readathon Week

Monday 26 February to Sunday 4 March

Books in for Book Swap Day

Tuesday 27 February

Dance Club to Dance Festival

Wednesday 28 February

World Book Day Dress Up and Book Swap (50p please!)

Year 2 Party (4pm)

Thursday 1 March

Health Week

Monday 5 March

Y2 Climbing Wall

Tuesday 6 March

Y2 to CK Library

Friday 9 March

Easter Experience – St Mary's Church

Thursday 15 March

NO CLUBS

Week commencing Monday 26 March

Castle Dress Up Day and Celebrate classrooms (3pm-4pm)

Tuesday 27 March