Open the Book
Children love stories, especially Bible stories, when they're interactive, engaging and fun.
So many children could miss out on the great classic stories from the Bible for example: Noah; Daniel; Joseph; and the life of Jesus could be closed chapters if children don't get an opportunity to engage.
Additionally, Open the Book can help schools meet the statutory requirement to hold a daily act of collective worship that is 'wholly or mainly of a broadly Christian character'.
What is Open the Book?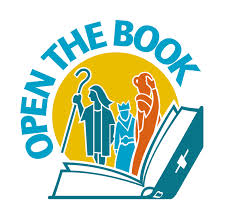 Open the Book began in 1999 and, since then, thousands of school children have discovered Bible stories duing collective worship. It's a three-year rolling progamme of themed storytelling, of around 10 minutes per session, at no charge to primary schools. Teams of local volunteers use drama, mime, props and costume to present the stories in a lively and informative way.
The weekly stories have been prepared with the help of experienced educators and are based around the Lion Storyteller Bible by Bob Harman. Every story is scripted and comes with direction guides which Open the Book storytellers follow.
The stories feature well-known characters but they're also about important values like faith, courage, loyalty, patience and bravery.
Who is it for?
Open the Book is for primary school children and is not about preaching or evangelising and is suitable for children of all faiths or those with none at all.
What's the aim?
Open the Book aims to:
present the Bible in an accessible and enjoyable way, and enable children to engage imaginatively with the text;
help primary schools meet statutory collective worship obligations;
contribute to children's religious, spiritual and moral education;
encourage links between schools and churches in a local context.